At work on varying sites?
Get your data
fast

and

fully organised

.
At work on varying sites?
Get your data
fast

and

fully organised

.
At work on varying sites?
Get your data
fast

and


fully organised

.
'It saves me days of work…'
'It saves me days of work…'
'It saves me days of work…'
Are you looking for ways to better inform your supervisors, foremen and workers of the planning?
And to keep the office well-informed on their works and performance?
A suitable app will help to ensure better communication. It will prevent delays and confusion, save work and costs.
Consider the CableTracks app: 
…..Simple to use
…..Clear overviews
…..Less handling 
The app is completely modular, each module can be fully tailored to your needs.
Click below and check if it matches your needs. Feel free to contact us – we will take all the time you need to discuss your issues!
How can we help you?
Work program
Stop sending separate messages to inform workers of their next job. An app will give them a better view of current and future jobs.
Switching to an app, you will no longer need to prepare paper work sheets. Nobody needs to come over to pick them up. And everybody will always have the latest update at hand
There will be no more confusion on start-times, locations and the jobs to be done.
Simple procedure
While using the CableTracks app, you can simply make use of an online company account to enter and modify your planning / projects / jobs.
The workers' phones will immediately be synchronized and show a clear overview of their programme.
Tailored formats
A number of settings allow you to describe your projects in exactly the way you want. Perhaps your workers only need to know the customer's name, start time and address. But you could also add as many items as you need, for example:
Project ID

Location

Approach route

Date and starttime

Contact persons / phone

Situation specs

Job specs

 
Programme per man
Other options include project allocation: each project can easily be linked to a worker or a team. In such case each worker will only see his own dedicated program.
Some of the key options.
Top: the main screen allows you to scroll through all projects.
Left screen: click once for a route map to next project (i.e. via GoogleMaps).
Right screen: add photos to visually explain the situation.
Bottom screen: add pdf files with back-up information. 
Previews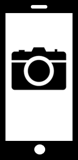 Making photos has never been easier: any cell phone will do. So making photos of start situations is easy too.
Still, working with individual photos has one big disadvantage. If everyone makes previews, how do you control all files?
How do you find that one single photo?

How do you link it with the right data?
How do you collect all previews of a specific project?
Use the CableTracks app to avoid unnecessary search times and handling.
Option to add remarks / notes to any photo

Automatic  adding of project ID, date/time and location (street/city)

Automatic reporting on online company account

Setting to send all previews to colleagues on site too.
Mobile gallery
All previews are accessible via your cell phone. Simply select a project ID, and all relevant previews will be shown immediately.
Online gallery
Use your online company account for additional functionality:
Gallery

Location maps

Mail reports

Download photos 

Download photos/notes (Excel)

Time registration
Are you looking for a simple way to register hours worked and jobs done?
Without an abundance of paperwork?
Without the effort of collecting all timesheets, getting them organised, understood and completed?
An app will do it in seconds.
Save Your Time
When using the CableTracks app, all individual reports are immediately integrated and reported on your online company account. You will have full overview, you can easiliy check the data, make corrections, give approval and use them for your administration (salaries / invoicing).
In practise it will save you lots of time.
Tailored solutions
The system allows close tailoring.
So, if you need information on hours worked only, the app will provide a simple menu for those data only.
However, if more information is needed, the reports could easily be expanded:
Hours worked – breaks – shifts – absence

Activities – stagnation – delays

Travel time – distances – passengers

Expenses – overnight stays – meals – receipts (photos)

Materials used – suppliers – quantities – delivery

Equipment used – hours – fuel consumptions / fuel costs

Tools used

Removal (rubble, remnants)

Approval by customer (signatures)

Corrections
Tailoring does not need to take a lot of time. Simply inform us of your requirements and we will provide a ready-to-use / ready-to-test solution within just a few days.
Production numbers
Do you need fast information on the day production?
Do not rely on paper sheets – it would always involve a lot of waiting.
The CableTracks app can be easily tailored to allow workers to log the relevant items at the end of the day or week or when the job is done.
The system will immediately collect, integrate and report your numbers, both by man and by project (see impression below).
No more waiting!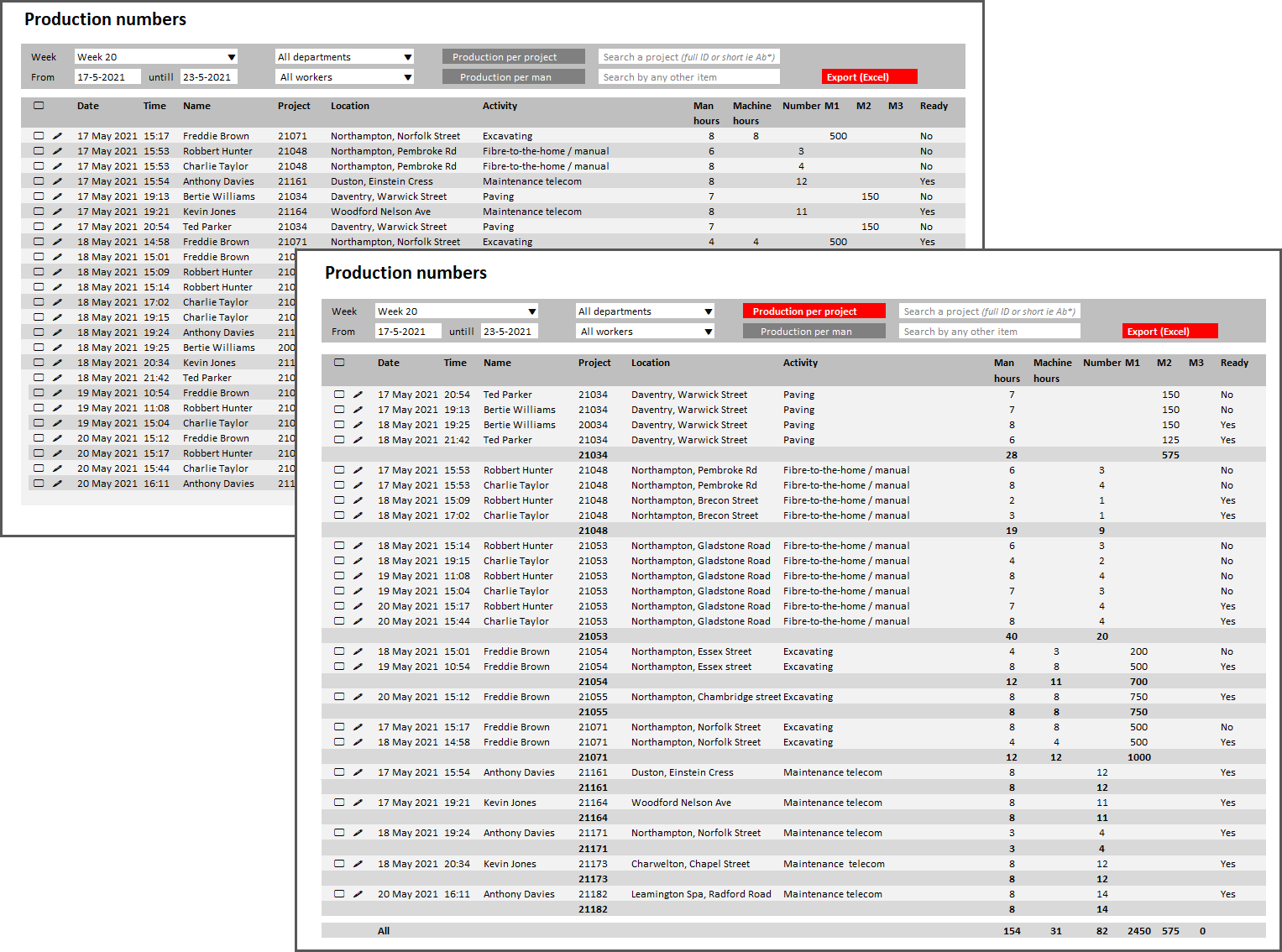 Tailoring
Ready for a next step?
Inform us of the numbers that you need at the end of the day – week – project. We will provide a tailored demo app and you will be able to test our solution with your own staff, flex workers and/or subcontractors.
Action points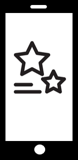 We guess you are very much used to working with ToDo's and Action lists.
For some people, it is no problem to remember them and to instruct others to get things done.  Others could use a little help.
It may also help to use photos to explain the issue.
Logging action points
Use the app to log action items with e.g. photos, a note, deadline or the name of the person who is in charge.
Each log is saved on your phone and on the company account. It could also be sent to the phones of your colleagues. Everybody is informed, people know what to do, you are in control.
Overview
All action points can be easily managed via your company account. Select a project number and the system shows all action points. Click to report it's done, so you always know which ones are still open. 
Inspections
There are many kinds of inspections. Site inspections, safety inspections, inspections of completed work….
The CableTracks app helps you to carry them out smartly.

Flexibility
While inspecting the app will guide you through all relevant items. Depending on the circumstances, the app allows great flexibility: you can either carry out the whole inspection in one go, or do so in parts. First take all relevant pictures, do so while rating and commenting all items or do so afterwards.
Whatever sequence, the app will automatically organize the data and present them in the proper format.
Customized reporting
All information is automatically integrated and reported on your online company account. It only takes a few clicks to compose a customized report with i.e. map projection and action points.
Layout and logo can be tailored as well (see example below).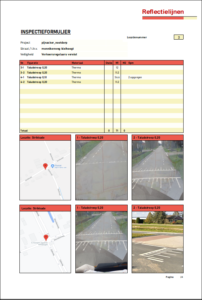 Safety Self Control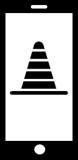 Monitoring and controlling the safety policy
On many construction sites, safety management is a major issue. For most hazards extensive safety regulations have been developed. The key issue is to ensure they are properly executed.
There are plenty of examples:
When work takes place at heights all scaffolding must contain proper guardrails
In case of underground digging, utilities should first be located
When trenches are entered, sloping, benching, shoring and shielding must be in place.
The Classic way
In many companies Safety Managers are responsible for setting Safety regulations and for ensuring they are properly executed
(see separate section on Inspections).
Additionally, there is an alternative way:
Self Control
As a Safety Manager  you cannot be anywhere anytime. Self Control will fill the gap. It will motivate your collegues to fully integrate safety rules in their way of working, both while being inspected and otherwise.
Simply ask them to log the safety measures they should take. In most  cases, they only need to make a photo of the execution of that specific safety measure.
The app will automatically add the project ID and integrate the records in online safety reports for each of your projects.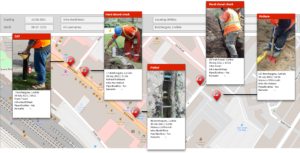 Online report of locating underground pipes and cables – prior to excavation works.
Dashboard
When working on a bigger scale, a Dashboard will offer useful trend analysis. It will show the monthly number of works with a proven execution of safety rules. If it matches with the overall number of works, you know safety management is top-of-mind. If not, the system allows you to easily check where things go wrong.
Evidence
All data, including date, time and GPS location are objective. So in case of accidents, you will be perfectly able to prove which safety regulations were met.
Claims handling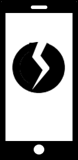 In case of damage, you probably want to deal with it as quickly as possible.
The first step is to get a complete report of what has happened. Typically, loose notes and photos will miss some relevant information. If so, additional action will be needed to complete your data.
It causes undue delay.
Instead, use the app to systematically report any damage. Depending on the type of damage the menu guides the user through a complete list of questions and instructions. Where necessary, the app asks for specific photos.
The report is directly shown on your company account, the claims handler will automatically receive a message by e-mail (see example below) and settlement can start immediately.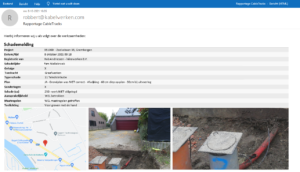 Online archive
The online overviews allows you to control your damage costs.
First they exactly show the number of damages, the damage per team / per  worker, the type of damage, and so forth.

Next, you can use the overviews to keep track of the status: check which damages are still open, which ones need attention, which ones are closed.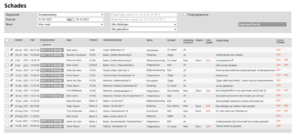 Reports to customers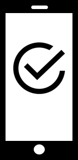 Once a job is done, you might want (or need) to inform your customer on e.g. the end result and the quality of the product.
By using the CableTracks app, it will not take much time and effort to do so.
The app will guide the user through the relevant questions, give instructions for specific photos and/or allow entering issues that still need attention.
Reports
All logs will be accessible via your mobile phone and via the online company account too. It will not take much effort to send a full report to your customer. Simply select the project number, check if all photos are OK,  enter the mail address and add a personal message. A complete report will be send immediately
(see example below, with map projection).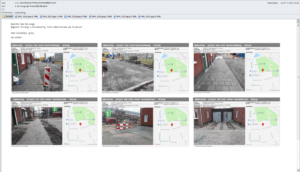 Customising
As with other reports, we can fully customise these reports, with your own lay-out, company style and logo. Simply send us your current format and we can provide a test environment.
Allow your teams to easily log and report the issues that matter.
All data will be automatically organised and presented on your company account. No handling, no delays, no confusion.
It might save you lots of time.
Why should you consider CableTracks?
---
1. Simple 
Clear app, simple structure, short texts

Works anywhere (both online and offline) 
2. Safe 
Data storage on Dutch servers only

Protection is strictly guaranteed under EU regulation (ISO 27001 2013)
3. Tailored solutions
The app will be fully tailored to your needs – workers will only see what they need to see

All reports will be tailored too (online reports – mail reports – mail alerts – Word – Excel – forms)
4. Full support 
Full support while preparing the launch
Full support after launch
Try it yourself!
Allow a few minutes to try it yourself. Browse GooglePlay or the AppStore and install the app "CableTracks Allround Logging"'.
Call us and you will get a code to activate the app.
Once activated, the app gives an example script for each of the modules shown above.
We would appreciate your feedback! 
Questions?
Give us a call or mail us: 
Questions?
Give us a call or mail us: 
•    Phone . . . . . . . +31 (0) 6 – 22080496
•    Mail  . . . . . . . .  info@cabletracks.com
Get a glimpse!
Allow a few minutes to start your own test.
Browse GooglePlay or the AppStore and install the app 'CableTracks Allround Logging'.
Call us for a code to activate the app.
Once it is activated, you can test each of the modules that are described above. Enter a Timesheet, report any damage, assess the reports. It is completely free. No obligations, no pushy sales talks …..
We would appreciate your feedback!
CableTracks|Online
Lage Maat 13b, Wijk bij Duurstede
CableTracks|Online   –   Lage Maat 13b   –   3961 NJ Wijk bij Duurstede   –   Phone number + 31 6 22080496   –   mail   info@cabletracks.com