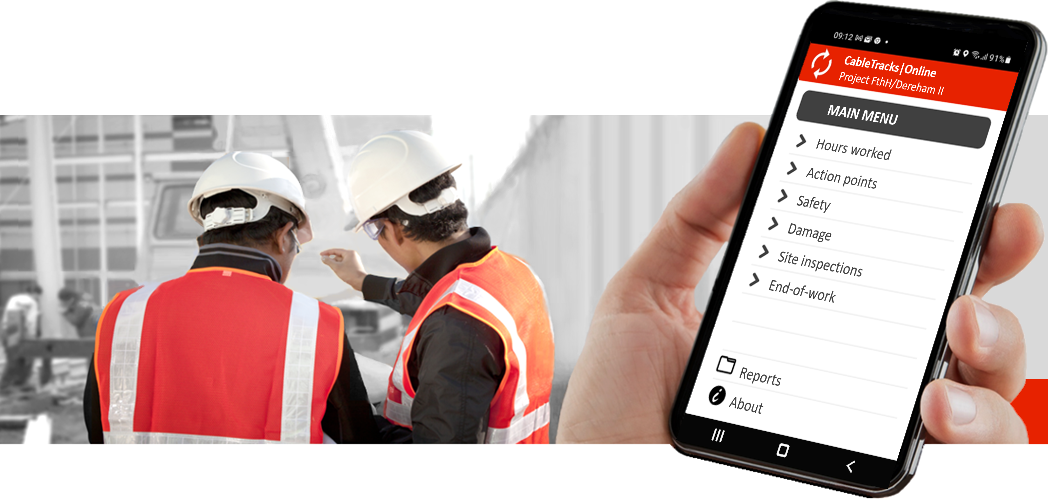 Practical app for working hours and project data
'It saves us days of work…'
Practical app for working hours and project data
Practical app for working hours and project data
'It saves us days of work…'
Do you still use pen and paper to report hours and project data?
If so, consider using an app thus avoiding delays, reducing data handling and improving your overview.
CableTracks offers a practical solution, easy to use.  
Take a look at our modules, which can all be fully tailored to your own situation and needs:   
Do you still use pen and paper to report hours and project data?
If so, consider using an app and thus avoiding delays, reducing data handling and improving your overview.
CableTracks app offers a practical solution, easy to use.
Take a look at our modules, which can all be fully tailored to your own situation and needs: 
The Modules
Work programme
Simple communication
There are various ways to inform workers about their programme. If you do so by sending separate messages, there is room for improvement. An app would simplify communication between the planner and the colleagues in the field.
Simple procedure
Manage your planning in your online company account. The programme will automatically be passed on to the apps of your colleagues. The opening screen of their app will offer a clear overview of the programme. Updates can easily be made. No delays, no misunderstandings.
Tailored formats
The app allows brief project descriptions, but you can also add as many specs as needed, like locations, approach routes, start times, contact persons, equipment to be used and materials needed. It's all up to you, the app is flexible.
Programme per man
The app allows making both company- and individual plannings.
In the first option each app shows all projects.
In the second option each app shows the individual programme only.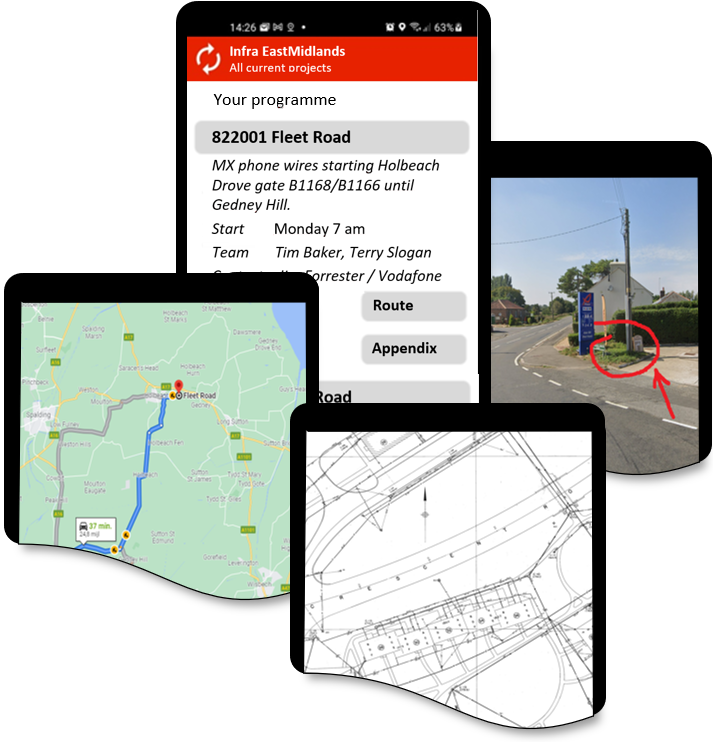 Main programme screen with buttons for additional project information. 
Project execution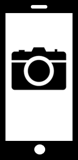 Using mobile phones, capturing specific situations is quite easy. Click photos, enter data, send messages.
But – once made – how do you manage those data?
How to find that one single photo? How to find all captures of one project? How to select previews only? Todays' actions points? The captures of additional works of last month?
Get it organized
Using the CableTracks app, all captures by all colleagues will be automatically organized. Open your online company account, enter a project name, date, location or description, and all relevant caputeres will be shown on your screen. With a few clicks, you can add them to your project maps. Or mail them to a colleague.  Actions points which are fully executed can easily be marked. The information will be automatically shared with all users, everybody will be fully aware of remaining issues.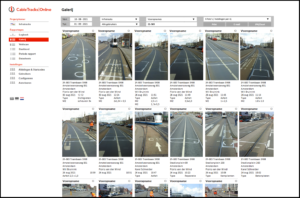 Prevention control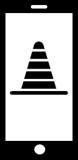 Safety first
Safety is a major issue. For most hazards proper safety regulations are available. The key issue is to ensure they are properly executed. Examples abound: when work takes place at heights, scaffolding must contain guardrails; when entering trenches, sloping must be in place. When digging underground, utilities should first be located…
The classic way
In many companies dedicated Safety Managers must ensure these procedures are properly executed. But they cannot be anywhere anytime.
That is why CableTracks offers an alternative way.
Self control
Consider the concept of Self control. It will motivate your collegues to fully integrate safety rules in their working methods.
Simply ask them to log the safety measures while being applied.  In most  cases, a simple photo will do.
The app will automatically add the project ID, date and location and integrate the logs in online safety reports for each of your projects.
Evidence
All data, including date / time / GPS location, are objective. So, in case of accidents, you will be perfectly able to prove which safety regulations were met.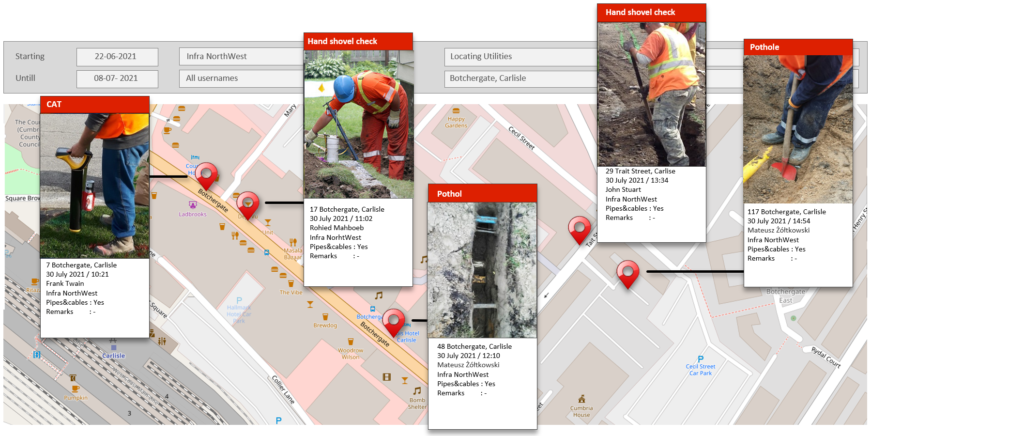 Online report of locating underground pipes and cables – prior to excavation works.
Dashboard
When working on a bigger scale, a Dashboard will offer useful trend analysis. It will show the monthly number of works with a proven execution of safety rules. If it matches with the overall number of works, you know safety management is top-of-mind. If not, the system allows you to easily check where things go wrong.
Time registration
Using an app to register hours worked and jobs done often avoids a lot of time and paperwork.
Save time
Individual reports are immediately integrated, your online company account will offer full overview, you can approve or correct all data, and use them as input for your administration (salaries / invoicing).
It will save you lots of time.
Tailored solutions
The CableTracks app allows close tailoring. You might use the app for worked hours only, or add other data like:
Breaks – shifts – absence
Activities – stagnation – delays
Travel time – distances – passengers
Expenses – overnight stays
Materials used
Equipment used – hours – fuel
Removal
Sign off
Inform us of your requirements and we will provide a ready-to-use / ready-to-test solution within just a few days.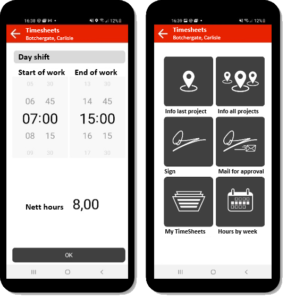 The app allows easy registration. Once start and end time are entered, the app automatically returns the nett hours worked.
Weekly totals are automatically returned too.  
Production numbers
Do you need fast information on the day production?
Lengths completed?
Number of connections realized?
Square meters paved?
Use the CableTracks app to allow workers to log the relevant items at the end of the day.
The system will immediately collect, integrate and report your numbers, both by man and by project (see impression below). No more waiting!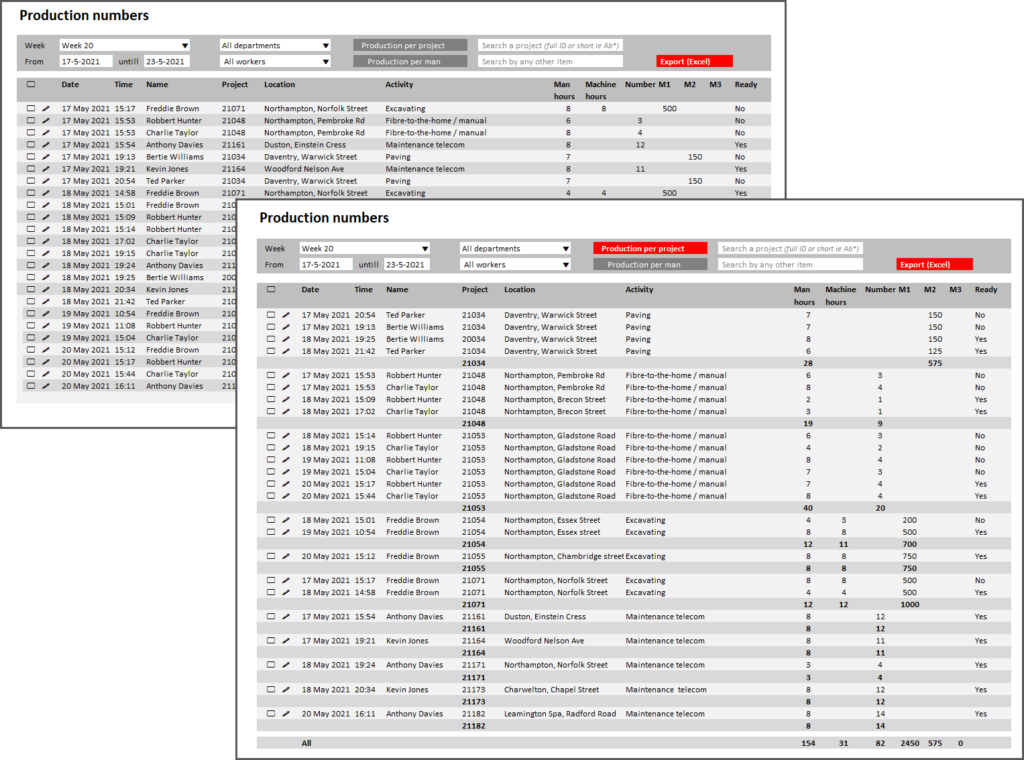 Tailoring
Ready for a next step?
Inform us of which numbers you need at the end of the day (or at the end of the week).
We will provide a tailored demo app. Test it with your staff, flex workers and/or subcontractors. You will quickly experience the difference.
Audits | Inspections
The CableTracks app is well designed to log and report site inspections and safety inspections. First, the app offers great flexibility while inspecting. And secondly, it will save you lots of time afterwards.
Flexibility
The app allows inspecting all items in any way and in any order you want. You can either carry out the whole inspection in one go, or do so in parts. First take all relevant pictures, or do so while rating and commenting each separate item. Whatever sequence, the app will automatically organize the data and present them in the proper format.
Customized reporting
All information is automatically integrated and reported in your online company account. It only takes a few clicks to compose a customized report with scorecards, map projection, action points and so forth.
Layout and logo can be tailored as well. You will be ready within minutes.
Damage reporting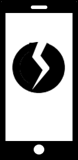 In case of damage you probably want to deal with it as quickly as possible.
The first step is to get a complete report of what has happened. Typically if one works with loose notes and loose photos only, there is a considerable risk that some details will miss. Once it is clear that more information is needed relevant details might be forgotten and the site might need to be revisited in order to be able to complete the report.
All this causes undue delay.
Guided help
Instead use the app to systematically report any damage. Depending on the type of damage the menu guides the user through a complete list of questions and instructions. Where necessary the app asks for specific photos.
The report is directly shown in your company account. The claims handler will automatically receive a message by e-mail (see example below). Settlement can start immediately.
Online archive
The overviews allow  to fully control all damage costs. They provide all details on the total number of damages, the damage per team / per worker, the type of damage, and so forth.
You can also use the overviews to keep track of the status. Check which damages are still open, which ones need attention, which ones are closed.
End-of-work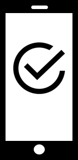 Once a job is done you might want (or need) to inform your customer on e.g. the end result and the quality of the product.
The CableTracks app can help you, both to assess the situation and to report it.
All relevant items
The app will guide the user through the relevant questions, give instructions for specific photos and/or allow entering issues that still need attention.
Reports
All logs will be accessible via your mobile phone and via the online company account too. It will not take much effort to send a full report to your customer. Simply select the project number, check if all photos are OK, enter the mail address and add a personal message. A complete report will be send immediately.
Customising
As with other reports, the full lay-out and design can be fully tailored to your company style.
Simply send us your current format and we can provide a test environment.
This is what we stand for:
– Tailored solutions
(matching the functionality you are looking for)
– Easy to use
(simple menu structure, simple screens

)
– Safe data hosting
(ISO 27001-2013)
– Full support
(give a call and we will help)

This is what we stand for:
Tailored solutions


(matching the functionality you are looking for)

Easy to use


(simple menu structure, simple screens)

Safe data hosting


(ISO 27001 2013)



Full support


(give a call and we wil help)

Contact
Any questions? Just call or mail us:
–  —
————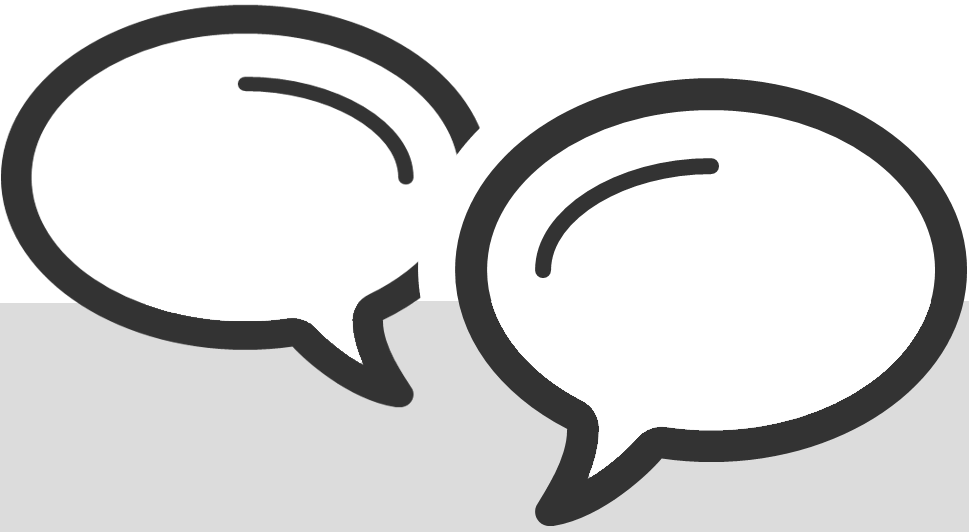 Contact
Any questions? Just call or mail us:  
•…Phone . . . . . . . +31 343 59 45 45 / +31 6 220 80 496
•…E-mail . . . . . . . . info@cabletracks.com
Try it yourself!
Install the app 'CableTracks Allround Logging' on your device (GooglePlay, AppStore), call or mail us for a activation code and test the modules you are looking for.
No costs, no obligations.
We would be pleased to get your feedback!
CableTracks Nederland B.V.
Lage Maat 13b – Wijk bij Duurstede
The Netherlands (NL)
CableTracks Nederland B.V.   –   Lage Maat 13b   –   3961 NJ Wijk bij Duurstede   –  The Netherlands (NL)   –   Call  31 343 59 45 45    –   Mobile  31 6 2208 04 96   –    info@cabletracks.com